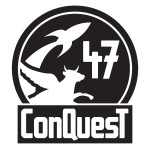 Another ConQuesT weekend has arrived. I have art in the art show, and here's my programming schedule:
Story in a Bag SAT 10 AM & Story in a Bag SAT 12 PM
Women of Star Trek SAT 3 PM
From Lieutenant Uhura to Captain Janeway women have been an important part of the Star Trek franchise. This panel will discuss the role of women in the Star Trek franchise and how it has evolved and changed over the years.
Play it Again, Sam: Rewatching, Rereading, and Replaying the Greats SAT 5 PM
Some stories are like a drive-through dinner: cheap, easy, and ultimately disposable. But more often than not, our all-time favorites reward – or even require – revisiting multiple times in order to get the most out of them. What is it about a great story that urges us to keep returning to it – and what's the secret to crafting a story that your audience will keep coming back to?
Writer with a Day Job (M) SUN 11 AM
How to balance your "real" job and your dream job. Is everything possible, or does something have to give?
I've also been managing the ConQuesT website and social media, as well as managing the Story In A Bag and Writer's Critique events. It has been a busy couple of months preparing for this three-day event. See you there?