Archon is one of my favorite science fiction conventions. This year, they brought one of my long-time favorite authors as special guest: Harlan Ellison.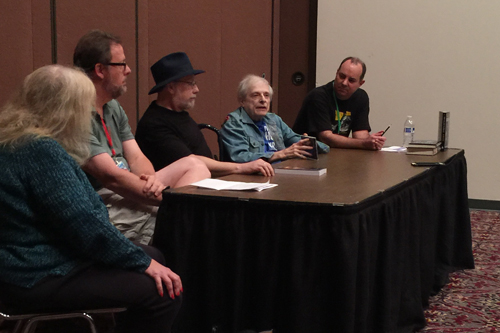 I discovered Ellison's short stories in the late 1970s, when I was in high school. My first real-life encounter with the author was when the university booked him as a speaker. I convinced my mother to take me to see him. I was probably 15 at the time, and my little sister was probably 10. Mom drove us there: 45 minutes in a sleet storm. We sat in the front row, me clutching a first edition of his collection, Strange Wine. When Ellison approached the lectern, clad in brown corduroy and clutching a pipe, he announced that due to there being minors in the audience (glaring at me and my little sister there on the front row) that he would be delivering a PG-version of his planned talk that evening.
My second real-life encounter with the author was at the NASFIC in Atlanta in the late 1990s. It was the hottest day in July; his reading was in a small meeting room with glass windows on two sides and an air conditioning system that couldn't compensate for that plus the body heat generated by 150 people packed into a room built for 50. We sat wherever we could squeeze our elbows in, including on the floor behind and around him. The signing line went on for nearly ever, but I got to chat with him briefly when my turn came. I told him the story about that evening at the university.
Archon 39, held Oct. 2-4, 2015, was my third encounter with Harlan Ellison. I came unprepared, with no books to be signed. (I know they're in the living room bookcase… somewhere.) I planned to buy a new one at the con. I also arrived too late to his panel to find a seat, so I sat on the floor near the front of the room. The panel topic was The Future of Science Fiction. His co-panelists were Esther Friesner, Rich Horton, Van Allen Plexico, and Mark W. Tiedemann. Ellison may look frail, but his mind and his tongue are still very sharp. Afterward, the signing line went on for nearly ever, but as my friends and I neared the table, I learned he had sold out of the new collection I wanted. I dashed into the dealer's room to buy the copy I saw there earlier that morning. Successful in my quest, I dashed back to the signing line. When it was my turn, we chatted briefly about the book and whether I had been in the signing line the day before. I told him I have been a fan since the '70s, but I did not tell him the story about that evening at the university.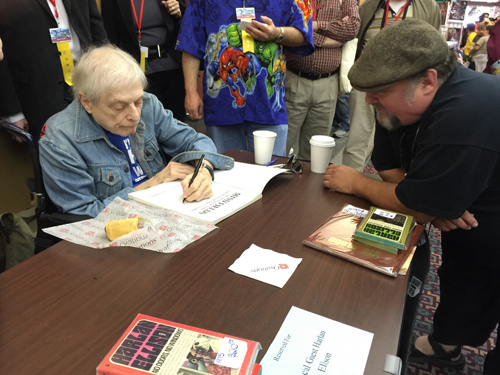 I saw Harlan Ellison again on Sunday morning as he and his entourage prepared to leave the hotel. I saluted him as they wheeled him to his car. He saluted back.